The EBMcalc FHIR App





EBMcalc is the leading source of interactive medical calculators. Referencing hundreds of medical journal articles and textbooks EBMcalc creates streamlined interactive versions of medical equations, clinical criteria sets and decision trees bringing the medical literature to life.

FHIR-enabled EBMCalc is able to pre-populate clinical data via FHIR standards to work directly in your electronic health record, saving clinicians valuable time while also promoting evidence-based clinical practice.





Contact Us for a Demonstration
Use Cases
A critically ill patient is evaluated in the ICU. Their provider quickly accesses EBMcalc through the electronic health record (EHR), and reviews various risk assessment calculators such as SOFA, qSOFA, NEWS2, Apache2, or others. The required lab and vital sign data are automatically entered into each calculator to speed assessment.
A 10 year old boy is seen in the ER with a blood pressure of 166/82. The provider quickly selects pediatric blood pressure assessment in EBMcalc, and the boy's blood pressure reading, age, and height are transferred into the app. A detailed calculation of systolic and diastolic percentiles is presented, and the interpretation is pasted into a clinical note.
A 56 year old woman is evaluated for complaints of chest pain. The provider turns to EBMcalc and review various cardiovascular risk calculators, such as the HEART Score, TIMI scores, ACC/AHA calculator, MESA, PROCAM, or the latest Revised Pooled Cohort Cardiovascular Risk calculator. All required input data are automatically transferred via the SMART on FHIR interface between the EHR and EBMcalc.
A 45 year old overweight man is evaluated in the office for concerns of new onset diabetes The provider accesses the Diabetes Risk calculator in EBMcalc, all required data is transferred, and the provider and patient can quickly review the calculated risk.
What Users are Saying
"EBMcalc is an exceptional user-friendly tool designed specifically to help save time and increase accuracy. EBMcalc is far ahead of many other apps in rapid responsiveness and attention to a focus on ease of use, pulling in so many things without user burden. Having worked with many app developers, few provide this much value in such a user-centered way."
Brian S. Alper, MD, MSPH, FAAFP, FAMIA Founder of DynaMed
Safety First!
EBMcalc launches in patient context and loads into the EHR making a secure, SMART on FHIR connection to the patient's data. Nothing is sent outside of your domain firewall.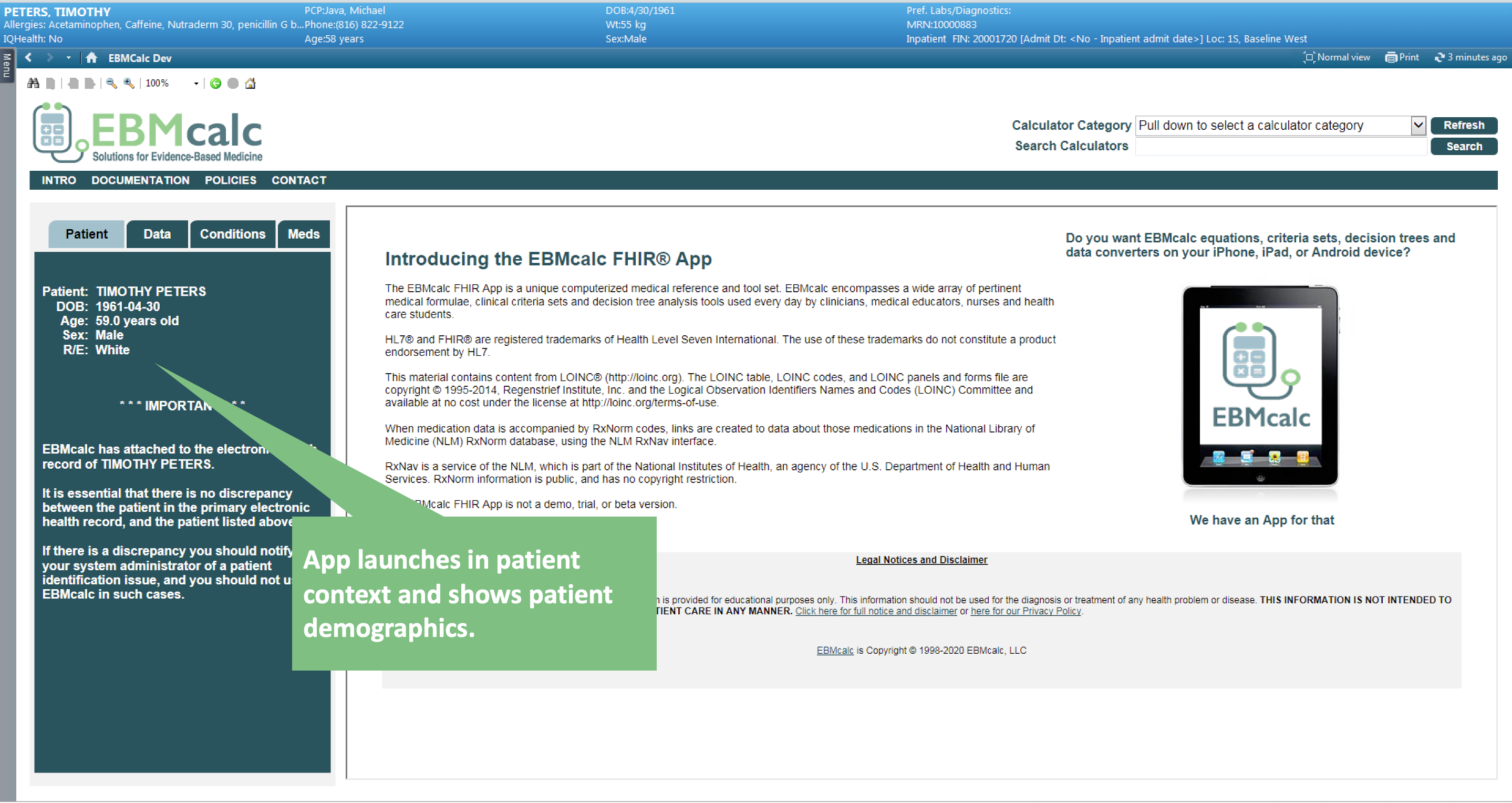 Save valuable Time!
Search directly by typing in a phrase or by calculator group. The system automatically loads the patient's problem list and EBMcalc compiles a list of context specific calculators available.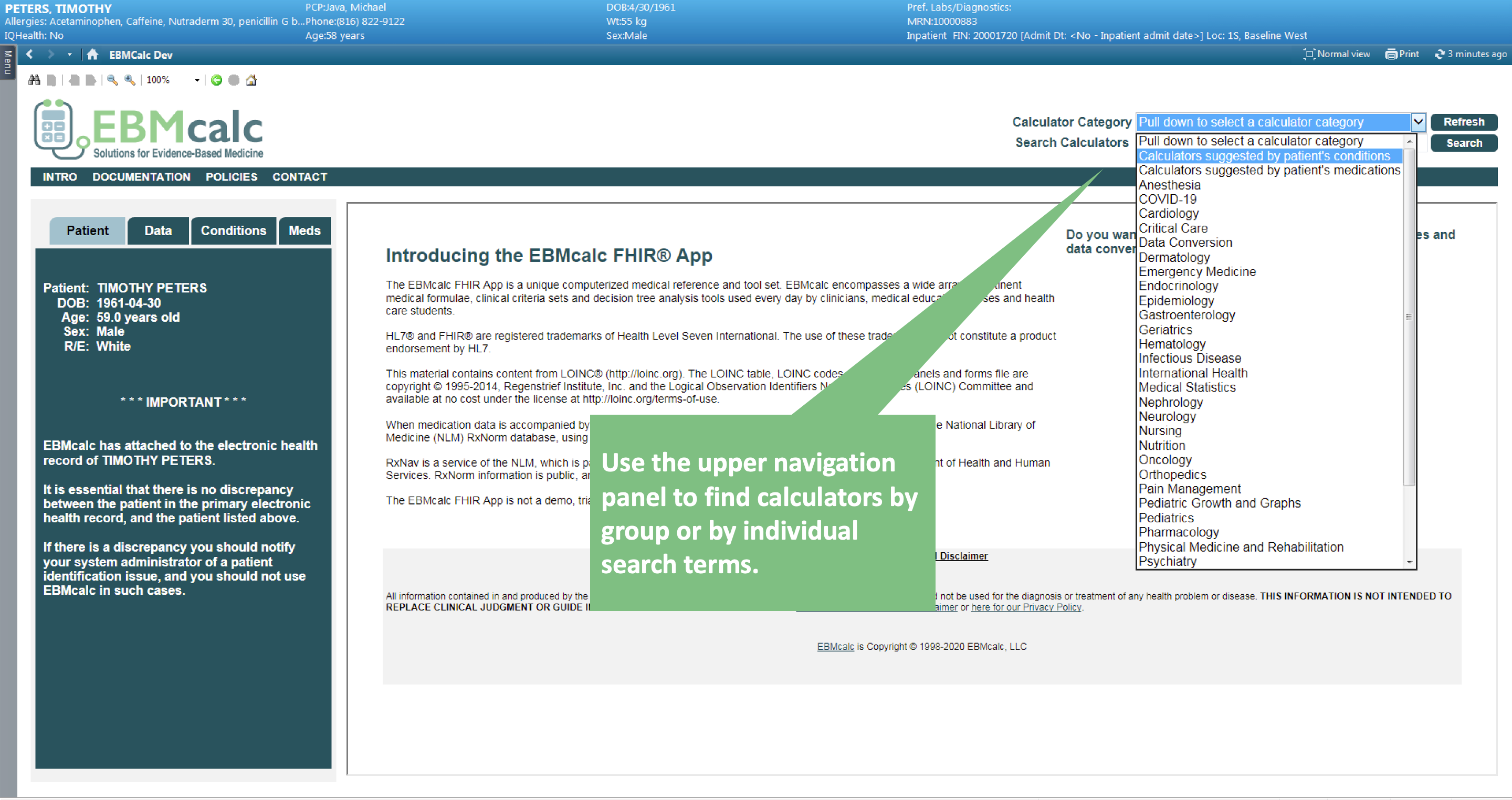 Reduce data entry error!
Calculate and isplay a patient's cardiovascular risk instantly by choosing the latest Cardiovascular Risk calculator. The app automatically populates the patient data needed to fill the inputs: Age, Sex, Lab Data, Medication Data, Presence of Diabetes, and Smoking Status.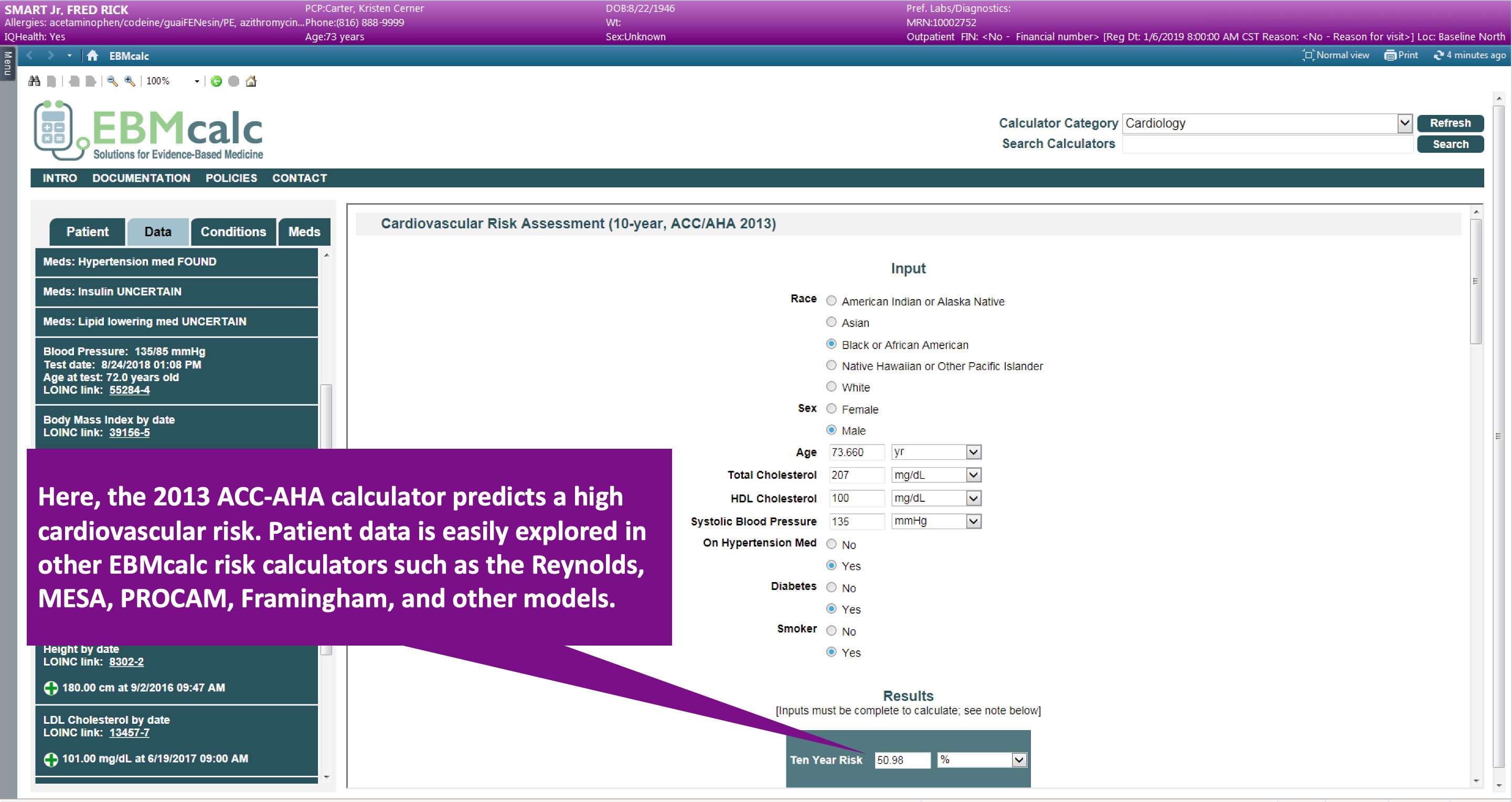 Ensure peace of mind
Paste important alculation details, results and literature reference directly into the clinical notes by using the copy-clipboard functionality. This saves you valuable time and ensures that all the important information you need is accurately transferred to your note.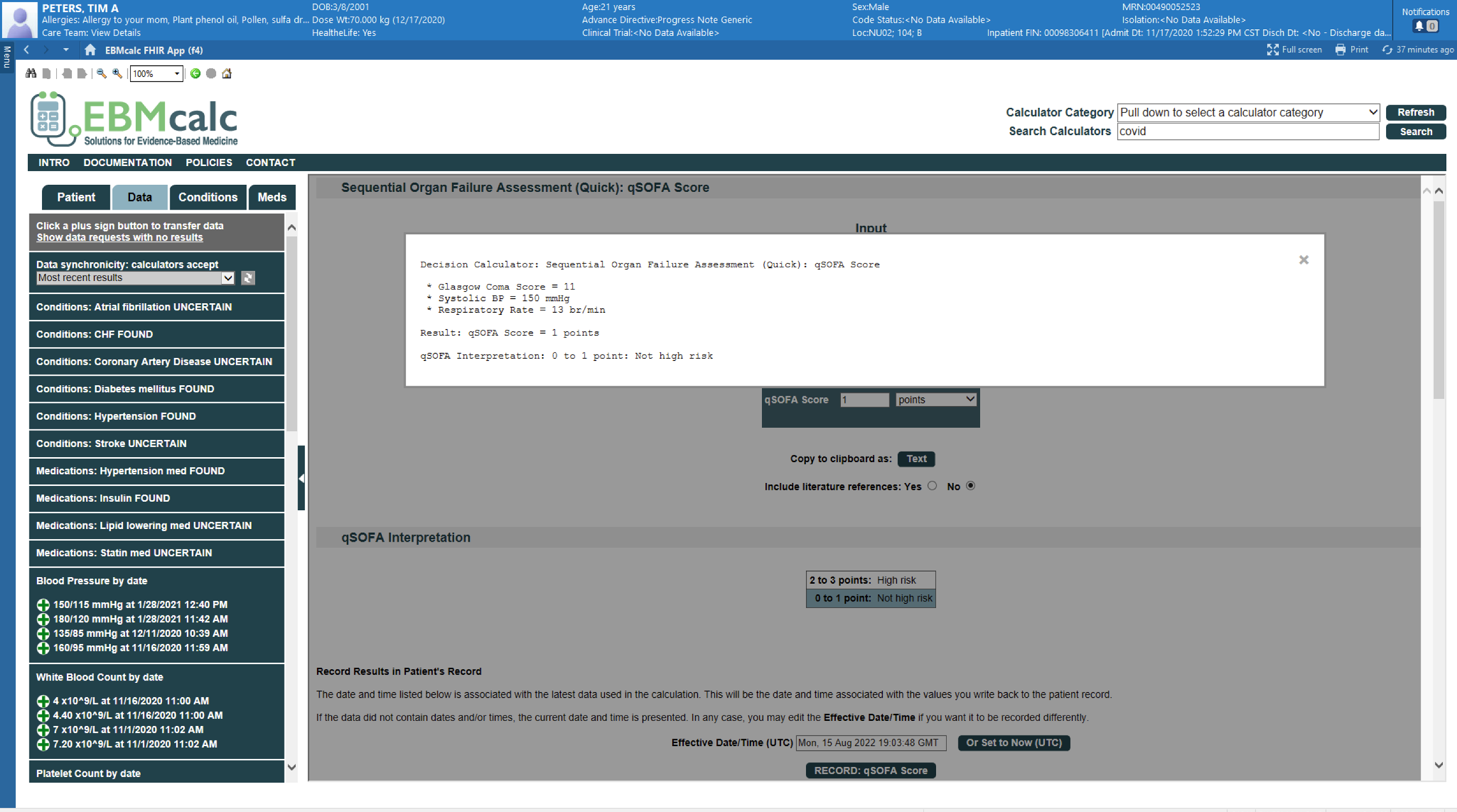 Pediatric calculators you can trust
The EBMcalc FHIR App has a full suite of pediatric growth calculators offering both direct growth percentile calculation as well as traditional growth graphs using data obtained directly from the EHR database. The pediatric collection also includes the newest American Academy of Pediatrics approved Pediatric Blood Pressure Assessment calculator.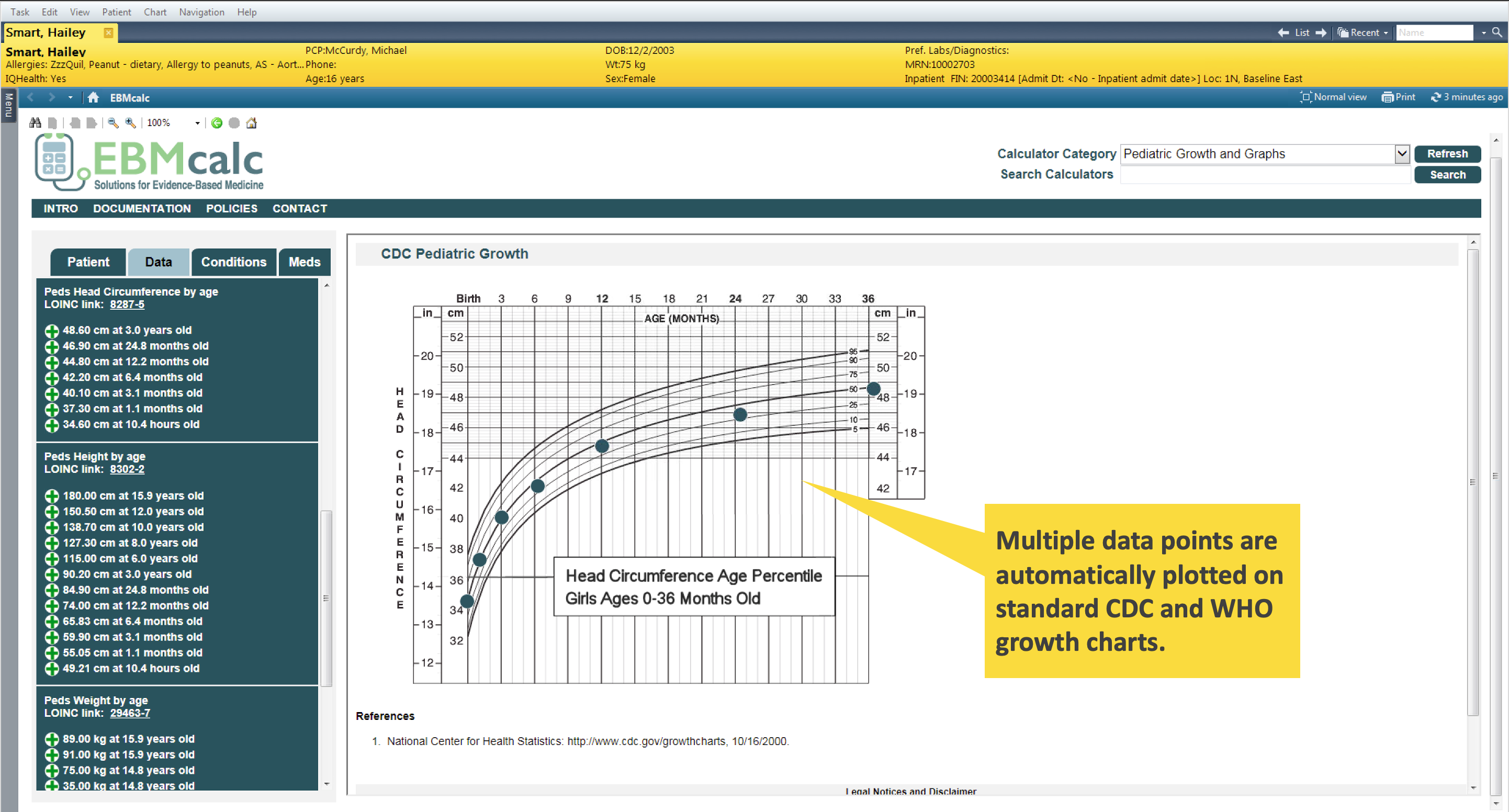 Contact Us for a Demonstration
Legal Notices and Disclaimer
All information contained in and produced by the EBMcalc system is provided for educational purposes only. This information should not be used for the diagnosis or treatment of any health problem or disease. THIS INFORMATION IS NOT INTENDED TO REPLACE CLINICAL JUDGMENT OR GUIDE INDIVIDUAL PATIENT CARE IN ANY MANNER. Click here for full notice and disclaimer.
EBMcalc is Copyright © 1998-2023 Foundation Internet [Build 272012 v23.4]